English: General Information
Who are we?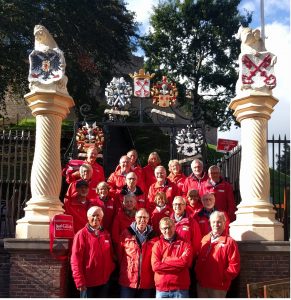 The Gilde Leiden Foundation enables the active older generation to remain socially involved. Gilde Leiden organizes different thematic walking tours. The members of Gilde Leiden who conduct these tours, are all passionate city guides. We, the voluntary guides of the foundation, have a broad historical interest concentrated specifically on Leiden and we want to provide our guests with an interesting and enjoyable walking tour. We recount the 'tales of the city' and its history enthusiastically and can do so in English, French or German.
Contact address for the Gilde Leiden Foundation: secretaris@gildeleiden.nl (This mail address is not meant for booking a tour.)
Activities:
City walking tours for groups :
All the thematic walks mentioned on our website are only available after consulting the coordinator. The group size is limited to 15 participants. In cases of larger groups more tour guides will be made available. The costs are €5 pp. with a minimum of €20, the equivalent of 4 participants. Walks after 5.00 pm are no longer possible.
On the following days there will be no guided tours:

Saturday 25 and Sunday 26 December (Christmas).
Friday 31 December.
Fares
A walking tour costs  € 5 ,00 p.p;
after 17:00 a tour costs € 7,00 p.p.;
for both tours we use a minimum price equal to 6 persons. The amount owed must be transferred and credited to the account of Gilde Leiden: NL86  INGB 0007 3020 87 (BIC: INGBNL2A) at least the day before the tour starts.
Children till 12 years of age , within a family setting, can join for free.
Contact
In order to book a tour, please, either fill in the form below or call our mobile number for further information: 06.122.09.120 on work days between 9:00 a.m. and 5:00 p.m.
N.B. Your request should be made at least 5 days before and will only be valid if it has been confirmed by our coordinator.
Accessibility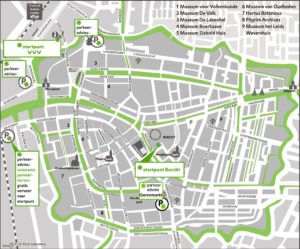 Click on this map to enlarge For a guided city tour in a foreign language the coordinator will discuss a meeting point with the organizing guest. See map (and below) for parking places and a lay-out of the town: If you come by train it is only 3 minutes' walking distance to the Tourist Information Centre where you can get a map. Convenient parking places in Leiden are situated at the Haagweg, Molen De Valk and Garenmarkt (see map).