English: General Information
Who are we?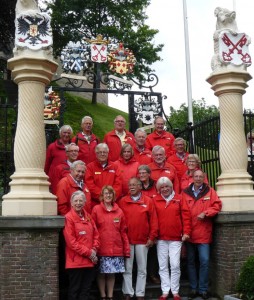 The Gilde Leiden foundation enables the active older generation to remain socially involved. Gilde Leiden organizes different thematic walking tours as well as a tour with a combined lunch or museum arrangement. The members of Gilde Leiden who conduct these tours, are all knowledgeable city guides.
We, the voluntary guides of the foundation, have a broad historical interest concentrated specifically on Leiden and we want to provide our guests with an interesting and enjoyable walking tour.
We recount the 'tales of the city' and its history enthusiastically and can do so in English, French or German.
Activities:
Thematic walking tours for groups:
A wide and varied choice of thematic tours is available.
On the following days in 2018 there will be no tours:
Monday 1 January
Easter Sunday 1 April, Monday 2 April
Whitsun Sunday 20 May, Monday 21 May
Sunday 27 May (Leyden Marathon)
Thursday 7 June
Thursday 30, Friday 31 August
Wednesday 3 October
Christmas Tuesday 25 and Wednesday 26 December
Monday 31 December
Fares
A walking tour costs  € 3 ,00 p.p.
If available, it is possible to book a guide for a small group upon request
a minimum fare of  € 24,00 is required.
Children till 12 years of age , within a family setting, can join for free.
Groups with more than 8 persons pay the normal  € 3,00 p.p.
Contact
In order to reserve a tour, please, either fill in the form below or
call our mobile number: 06.122.09.120 on work days
between 9:00 a.m. and 5:00 p.m.
N.B. Your request will only be valid if it has been confirmed by our coordinator.
Accessibility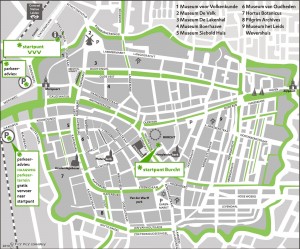 Click on this map to enlarge
For a guided city tour in a foreign language the coordinator will discuss a meeting point with the organizing guest.
See map (and below) for parking places and a lay-out of the town:
If you come by train it is only 3 minutes' walking distance to the Tourist Information Centre where you can get a map.
The largest Parking Place in Leiden is situated at the Haagweg (see map)